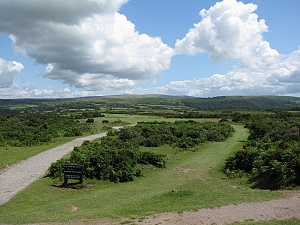 A delightful moorland track, where golfers share the fairways with Dartmoor ponies, sheep and cattle. With his usual restraint and elegance Fowler disturbed the natural land as little as possible and produced a very playable members' course. While not quite of championship calibre as some of his more famous designs, Yelverton has all the ingredients from the bouncy heathland turf to the strategic playing angles, the ever-present wind and the unspoilt scenery.

Although there are some tighter shots, the course is a lesson in openness and how a few well placed obstacles are enough to make a hole. The player never feels restrained, nothing here is superflous or even over the top. Not even the chasm in front of 13, which shows Fowler's mastery of simplicity. Too many architects place a pond in front of the green and in the process create twice the punishment, but not half the drama.

Yelverton's greatest strength is, however, also its biggest weakness. There are some holes on the course that play and look fairly similar. If the natural landforms didn't provide it, Fowler was sometimes too reluctant to create it. Some of the short par 4s are too easy, they could do with more of a risk/reward type of strategy. But it's still a very worthwile layout and certainly has its own defining character.