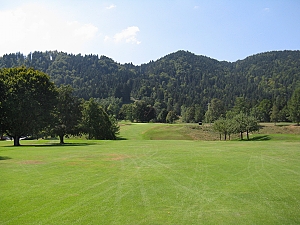 This course is situated above the Tegernsee lake in the Bavarian Prealps, which is one of the more stunning (and expensive) places on this planet. Luckily the site is not overgrown with trees, so there are some great views, even a few of the otherwise elusive lake.

The first 8 holes are a master class in routing and represent some of the very best golf to be had in Southern Germany. The site is certainly difficult enough to expect some excess walking between holes, but Donald Harradine has tied everything together admirably. Unfortunately, after 8 holes he ran out of terrain and slapped a tiny par 3 onto a ledge to at least complete the front 9.

The back 9 is a somewhat patchy mixture of connector holes, quirky gems, panoramic pleasers and claustrophobic craziness. It's definitely worth playing, but occasionally over the top and certainly not as organically routed as the front. The common denominator of both loops is that they are quite difficult and unfortunately a little overwatered. Tegernseer could be a completely different beast, if it played firm and fast. The terrain is perfectly suited to inject some ground game spice into the round, although the 13th hole might be rendered unplayable.

It's hard to do this course justice except for the first 8 holes, which are clearly from the top drawer. Other holes like 13 and 18 or even 12, which players drive over from the 17th tee, are bordering on the absurd and the well behind green 13 should certainly be used to replenish water supplies before tackling the climb up to the 14th tee. In contrast to some of the "well-rounded" courses in the region, this one isn't boring in the least.