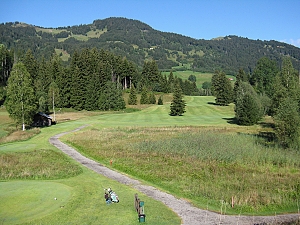 A lesson in how to downgrade a great course through unsympathetic modernisation. Four holes were rebuilt by Rossknecht, quite unbelievably in a typical American / Florida fashion with no respect to Harradine's lay of the land style. While the golf is actually not bad, these new holes - bereft of any charm - stand out like a sore thumb.

Fortunately, what remains of Harradine's work on the rest of the course is eminently interesting and will please the quirk crowd, the old-style aficionado and occasionally the thrillseeker. Even though the course lies in a mountainous region, it is very pleasant to navigate - a routing masterclass on a difficult site. There is a bit of walking between holes, but always within reason.

The stretch between holes #6 and #11 is the fat part of the site and consequently hampered a bit by parallel fairways and there could be more variety in the par 3s. Other than that it is fantastic golf and the views (though rarely Alpine) are superb as well. There is absolutely nothing wrong with the green complexes and the fairways play well in dry and wet conditions.

For a mountain course with its inevitable undulations this is a very restrained and balanced layout that should provide flow for most every golfer. #5 and #15 are Harradine at his best.