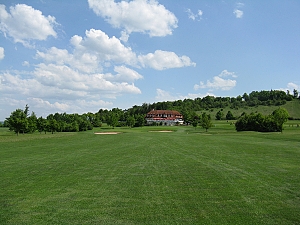 A wide open course in a pleasing setting - and that is about all that it has going for it. Wide fairways are fine, but they need to provide some interest. This highway style design (wide middle lane, hazards off to the side) simply does not provide enough interest. It is a bit like playing on a huge driving range.

There are too many similar holes and too little variety in the shot values. On top of that conditioning is a bit rough, the fairways are weedy and the greens slow and bumpy. Nothing that would be a detriment to a quirky, rustic course, but it doesn't feel right for this flattish layout with its extremely shallow bunkers.

The clubhouse is great, though, and everything around the course feels very friendly and peaceful. The gently undulated site isn't exactly a world beater, but would certainly accommodate a more interesting design.