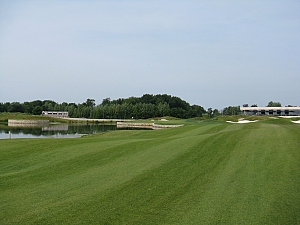 When no expenses are spared during construction, a brawny, modern course is usually the result. In this case the site was completely flat and the soil rather unimpressive as well. After sand capping throughout, it now enjoys playing characteristics worthy of a championship course. The clubhouse and the services provided are as expected at an expensive private club.

Unfortunately the atmosphere leaves a lot to be desired. First off, the Schiphol / Amsterdam airport is nearby and jets will take off and land right over the golf course. And even if they don't, there's always the motorway serving up a continuous background soundtrack. Then the surrounding area is all industrial, so any view from higher up also includes some ugly buildings in the background. The basic rectangularity of the site does not help with the flow either - it's back and forth and back again.

The hole designs, on the other side, are mostly very good, if not exceptional. While good golfers will be challenged, the course remains very playable for the average member. Perhaps some of the rather undulated greens are a bit harsh, but the overall experience qualifies as a proper round of golf. It is not monotonous and, despite a general lack of quirkiness, there is some fun to be had.