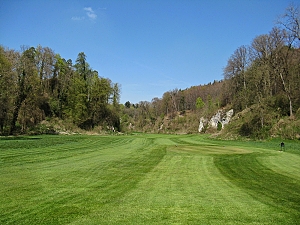 Schloss Langenstein is the quintessential country club with various activities, not the least of which is golf. Although the American private club model isn't really prevalent in Germany, the course is very reminiscent of what one would find there. This undoubtedly has a lot to do with Rod Whitman, the course architect, who hails from Canada and should be very familiar with the style of courses found in traditional, private clubs.

The property is largely open, rolling land on the front nine, whereas the back nine has a few twists, such as lakes and a canyon. Of course the castle itself also provides a spectacular backdrop for a number of holes. Playability is enormous due to flawless conditioning and a design that does use the natural landforms, but never runs away with them. The flip side of that is an occasional lack of excitement, especially in the first few holes. While they are subtly interesting, they are not dramatic enough to stir up visions of greatness.

It's a very relaxed and down to earth walk, even the few longer treks between holes are quite agreeable. The routing - a loop followed by a figure eight - does its part to create a pleasant journey. And such is the variability of the layout that most clubs in the bag will be used. This is a very well-balanced course and just a few punch lines away from grandeur.