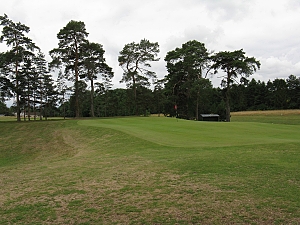 How lucky can you get to find a perfectly sandy site with subtle, links-like undulations in the middle of flat, agricultural country? There is room for just 9 holes, but hardly ever has so little land be put to such good use golf-wise. It's a real throwback into Victorian golf architecture, complete with cross bunkers and tees located little more than a clublength from the previous hole. Driving over greens is not an issue here, the number of players has apparently also remained constant in the last century.

The stars of the layout are the green complexes. They are quick, firm and severely undulated. Short game lovers will have a blast, there are all kinds of impossible situations calling for a heroic feel shot. As for the long game, it needs to contend with some rather penal hazards, but the fairways, undulated as they occasionally are, always provide enough room for strategic play.

Due to the small site it is possible to just keep on going round and probably play more quality holes per time unit than on any other course. The club is as low key and old fashioned as the course, there are no modern shenanigans. In terms of the total package, this one is hard to beat.