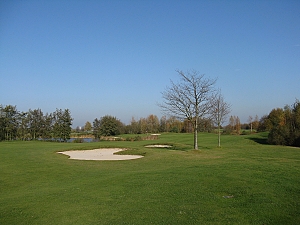 A flat course with generous playing areas, dubbed as "predestined for longhitters" by the club itself. The front 9 are a bit repetetive, variety starts to pick up after the turn, mainly due to a number of doglegs and water features. The set of par 3s is very nice, but many of the longer holes are straight and with little strategic merit.

If the course played firm and fast and there were more undulations in the fairways, then the whole concept might work better. As it is, the turf is probably 100% loam and completely kills the ground game in moist conditions, whereas in dry conditions it is still very clotty. Drainage is installed and effective to a point, but it will never produce the playing conditions demanded by the course design. A narrow and tricky course with smaller and more undulated greens would be a better match for this site.

That being said, the holes are professionally done and play can move swiftly, as there is hardly any rough to contend with. There is another 9 holer on the site and a shorter academy track, this review is for the championship course.