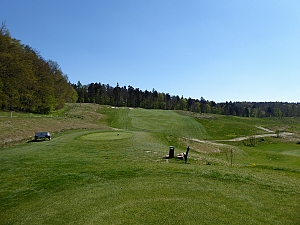 The faux links style is becoming ever more popular and for those, who thought that it can't get any crazier than Winston Links, here is a course that might just jump the shark. The detail work is not quite as extensive, but the severe site probably trumps anything that faux links has ever been attempted on.

The front nine run up and down two opposing hills and even seasoned walkers will feel the sting. And some of that is completely unnecessary except perhaps for the resort's cart business. The cobblestone walk between holes 9 and 10 is incomprehensible. Things improve thereafter, though: the back nine are routed in terrasses along the slope and there's just one connector walk and that's downhill.

Of course there's also an upside to the rugged terrain: it gives up some of the most spectacular holes in Germany and the view over the property is stunning in places. It is definitely possible to play great golf here, as the architect has a few tricks up his sleeve. Where the contours are the wildest, there is usually ample room off the fairway, whereas a tighter game is needed around the more level holes. As for the short game, all bets are off. The greens are heavily undulated to the point of having no flattish pin positions whatsoever. And some of those bunkers are effectively unrakeable, so hard is it to get into and out of them.

Despite all the nuisances, it is actually a blast to navigate the complexities of this design. Most players will leave already theorising about how they are going to play certain holes when they return. Even higher handicappers can have their day here. It's very refreshing to see a high-quality, new build with so little yardage. Ultimately, every golfer will want to see this course at least once. At the very least, they won't come away indifferent.