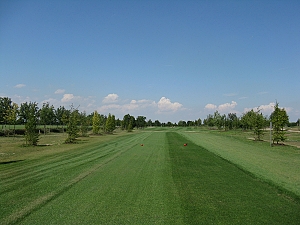 There used to be a somewhat decent 18 holer on this site, which now accommodates two 18 hole courses with this one being the new main track. However, the site isn't really large enough for 36 regulation size holes, so both courses are on the short side. At least the nice clubhouse with its faux beach was retained and a hotel is being built right next to it.

The fairways are now even closer together than before and consequently safety issues abound everywhere. On the other hand the previously copious traffic has been reduced significantly through the introduction of the second course and perhaps even more through the decreased yardage, which makes the cramped layout less attractive to many. The newly built holes were designed "in-house" and only two of the old holes, which were done by a professional golf architect, remained unchanged.

As it stands the course lacks variety, there are no long par 4s, no long par 3s and only one long par 5. While length does not equate quality and driveable par 4s and reachable par 5s can be fun, they need an element of risk/reward and some room to maneuver. But the aggressive option is rendered moot, when the main risk is hitting other golfers and disrupting the flow of play on neighboring fairways. However, it must be said that it is a good winter course - when traffic is low and the neighboring clubs are soggy, then Gernsheim is an option.