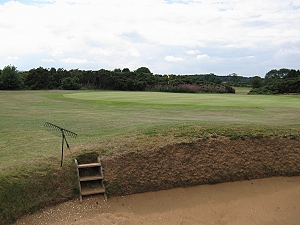 This challenging heathland track is frequently described as one of the best inland courses in Britain and it does live up to that billing. The site is in the middle of agricultural country, but apparently used to be a sea inlet and as such has sandy soil and classic heathland vegetation. The undulations are gentle, but internal fairway contouring can be quite pronounced.

The main architectural feature are the severe bunkers that define most of the holes. Only a few can be escaped from without harm, most will assert themselves on the player's scorecard. There is no collar of rough or other "protection" around the bunkers, they will gobble up any balls that come near them.

Once the bunkers are negotiated, the green complexes come into play and they are also surrounded by closely mown areas, so the ground game can start well off the green. The putting surfaces themselves are very quick and firm, more often than not balls pitched onto the front will roll all the way through. Undulations are generally subtle though, so putts can definitely be made.

The course is a bit short on quirk or, in other words, high on championship qualities and the club indeed hosts many prestigious tournaments. The only really blind tee shot is the 18th and there is a viewing platform to climb (necessary too considering the group in front). Another idiosyncrasy is the pond at #6 which, oddly enough, does not look out of place. Other than that it is what many would call a fair test of golf and in any event a spectacular experience for players good and bad.