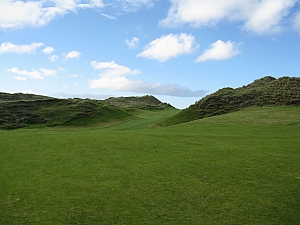 The original course as designed by Eddie Hackett was for a large part outside the spectacular dunesland, which has prevented Enniscrone from claiming more than hidden gem status with a couple of amazing holes. That has certainly changed in 2001, when Donald Steel was retained to build six new holes in the dunes and relegate some of the old, flatter holes to a new 9 hole track called "Scurmore". The resulting "Dunes" course is now a first tier layout with an especially sublime routing.

The opening par 4 is a great example, as it provides a stupendously wide and inviting fairway to ease the player into the round, but then the approach is to a wild greensite nestled in the dunes. That is the terrain for the next three holes, before the 5th and 6th gradually leave the dunes and approach the Moy estuary. After a flatter, but undeniably linksy stretch with some really good holes, the 9th plays along the estuary and the 10th turns back into the dunes for the rest of the round. The quirk builds up through 11, 12 and 13, which is the highlight for every average hitter wanting to for once drive a par 4 green. Adrenalin levels then subside a bit through 14, where most players will be able to get a score, before the round concludes with a number of tough holes running along the ocean and back to the clubhouse.

The greatest routings find a natural path through terrain that is not only diverse in appearance, but also in character. Enniscrone does this exceptionally well, even if a bit more separation between holes 5, 6 and 7 would be the icing on the cake.

Unlike many other dunesland courses, this one actually has fairly wide fairways and the layout itself is not the longest. But between the usual wind and the very demanding greens even good players will have their hands full, while the average Joe won't run out of balls mid-round. It's certainly hard to build a bad golf course in the dunes, but to get a world-class one still requires meticulous work. Kudos to Eddie Hackett and Donald Steel for pulling it off.