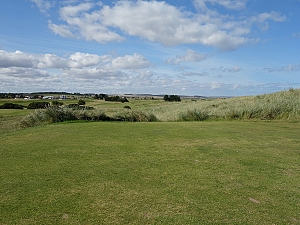 At first glance this appears to be a competent, but fairly unspectacular links course. The dunes aren't very high and the sea views few and far between. However, the sublime routing and the intricacies of many holes combine with great turf and fantastic greens to create a memorable playing experience. The general layout is in two loops of nine holes on either side of the clubhouse, so the direction changes often enough to cope with breezy days. Like any links it can be brutal in strong winds, but remains playable in most weather conditions.

The front 9 has great variety in the par 4s and par 5s, there is everything from short to long, from dead straight to doglegged and also a few mild elevation changes. It feels very expansive, so the driver will come out frequently and a mixture of bunkers and rough will be in play. On the back 9 the two par 3s shine brightest with a few other quirky holes before and after, so that stretch is definitely the most exciting part of the course. The homeward holes, while played into the prevailing wind, also mix it up a bit with a short par 5 thrown in and the cross-wind short par 4 18th. The latter hole is somewhat unpopular due to the climb onto the course's only higher dune for the tee shot and the barrage of bunkers defending it, but it works great as a completely unusual match decider.

The superb variety of shots to be played is mostly due to the firm and fast playing conditions, the rumpled terrain and the undulated green sites. But there are also some interesting angles brought about by diagonal tee shots and doglegging fairways as well as strategically placed bunkers. Despite the very involved routing there are hardly any green to tee walks except at the "dreaded" 18th, so a round over the Goswick Links can only be described as flowing with the land.

While there may be quirkier and more adventurous courses - here it's really only the middle part of the back 9 that gets a bit wild - they will be hard-pressed to achieve Goswick's rhythm and playability.