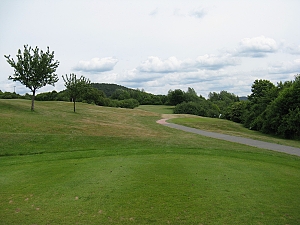 Aschaffenburger Golfclub is a charming DIY project, which showcases the good and the bad of this approach. On one hand there are a number of totally unconventional holes, which "could not be built today", but are super fun to play. On the other hand the routing is a small disaster, as it makes just about every mistake in the book: backtracking entire holes, crossing other fairways, tedious green-to-tee walks, unprotected blindness and more.

It's a very short course, but on a severe site with brutally difficult greens, so scoring is not easy. The first hole would look pretty wild to most golfers, but in reality it is the most straightforward par 4 on the course. While the front 9 is heavily undulated and extremely quirky, the back 9 turns it up another notch. Many members conclude their round after #15, which comes back to the clubhouse. It already has been a pretty beefy walk to this point, but the final three holes really hammer the point home that golf was meant to be a ground game.

Speaking of which, this track plays unusually firm for German standards and the greens can produce three-putts or worse in a hurry. The wily veteran with good control over his shots and a vivid imagination will always beat the long hitting formula player on this course. Were it not for the botched routing, Aschaffenburger could be the prototypical hidden gem.