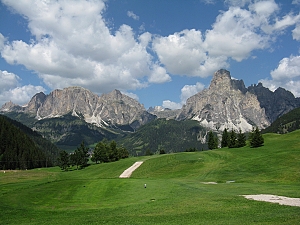 One of the most spectacular mountain settings anywhere in the world at an altitude of 1700 meters. Used for skiing in the winter and as a 9-holer between June and October.

Naturally, the site is somewhat hilly, but it would be a crime to ride. Meant to be played like a remote Scottish Highlands course and has all the quirk as well. With the exception of the supremely difficult 4th (an uphill three shotter with much blindness) and the long 9th the course isn't much of a championship test, but the greens are surprisingly quick and occasionally tricky.

Playing here is a completely invigorating experience due to the unmatched views, but the golf itself is quite some fun as well. Considering its altitude the course is in good shape and one of the truly hidden gems on the European continent.